Fibers in Motion…
A concept born from a life long love of fashion, textiles, travel and the celebration of unique art. Join me on the journey of creativity, yoga and a Zen life style.
                                                                                              LuAnn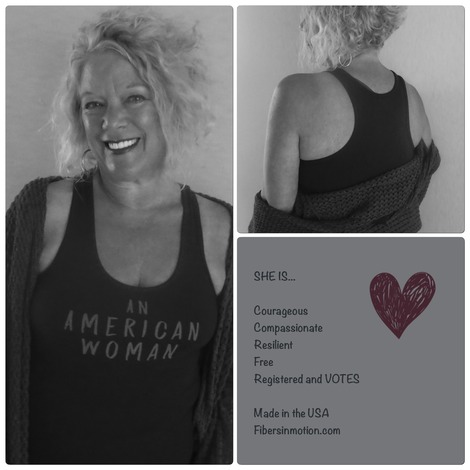 Launching "An American Woman"
Racer back tanks are a tri blend, great fit, designed by me and they are made in the USA.
Sizes are small, medium,large and extra large. Price is $22.00. $4.00 shipping and handling for mail orders.
A percentage of all sales will be donated to non-profits leading the way in preventing and aiding victums of sexual and domestic violence.
Accepting PayPal. Please email me at fibersinmotion@comcast.net for my link.
Namaste,
LuAnn
Holiday Bazaar Mountain Park…
December 1, 2018 10:30-2:30
Coming January 19, 2019 Vision Board Workshop
Mountain Park Club House 1-4
Details soon...

 Keep in touch