4/19/2015
Time has flown by…busy teaching art, yoga, organic farming at Lusher Farms. All is great!  Join me for Art in the Park May 2, 2015.
Namaste, LuAnn
7/30/2014
I have landed from my travels around the world…It has been a fabulous two  and a half years exploring different cultures and gathering inspiration. I am back in my studio creating, working on my Etsy site and looking forward to reconnecting with fiber friends.
Namaste,
LuAnn
1/24/13
It is a new year filled with light and creativity. I am busy in my studio creating for Etsy… My site will be up soon. I will be selling my creations, fabric and supplies and some fashion vintage items… 
A new store online! It is hard to believe it will soon be a year since I closed my doors in Multnomah Village after 10 amazing years. I think of you all often and I am delighted when our paths cross out in this beautiful world.
So wishes for a fabulous 2013!
LuAnn
11/12/12
The Fall has arrived and the rains, so we are all moving in and preparing for the holidays… I send warm and loving thoughts to all of you.
This Friday is the Cares NW gala and our fifth quilt will be auctioned of to help children in need. Wish Lisa and I luck that it is another successful money raiser for a cause that we truly belive in!
I have been in production sewing Fibers in Motion iPad and lap top covers with themes from all over the world. Look for my inventory on Etsy around December 1st.
To be continued…
Blessings,
LuAnn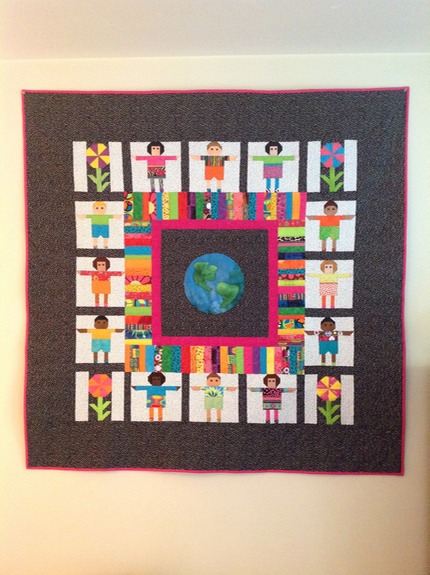 As Summer is slowly slipping away to a beautiful warm Fall, I find myself taking a few moments to catch up with everyone. I have been in motion nonstop since closing the store in Multnomah Village. It was a wonderful ten years which has opened the doors for many new exciting ventures. I spent six weeks in Bali, studying yoga, indulging in beautiful textiles, a rendezvous with my niece Jessica and her husband Scott, and long beautiful walks along the bali seashore…
Returning home, I enjoyed Sisters Quilt Show with dear friends and was delighted to see so many of you. I taught Yoga at The Royal Kids camp… 37 kids… 8 classes. At times it was like trying to keep a wave upon the shore, but so rewarding. Lisa and I just finished our 5th quilt for Care NW… it is our favorite, but we say that every year. We We delivered it to our friend Carol Parks so she can do her magical long arm quilting on our creation. We are grateful for the opportunity to help this incredible organization. The silent auction will be November 16, 2012… please check their website for details.
So everyone asks me what is next…Finally a new WEBSITE, so that I can keep connected to all of you!
 I am involved in a wonderful new company Paris Central… who does not love that city? I am designing product which will be available on Etsy and by private orders. The website will be launched by the end of September. It has been a joy designing with all of my Fibers in Motion stash that I collected for ten years… The Fibers in Motion Annex!
Anyone ready for a tour to Australia? I am teaming with a friend Patsy Lally who has been a tour guide for over 20 years to Aussie land. We will start in Melbourne for the Australian Quilt Show… Check out the tour section of our new website for details. 
Yoga anyone??? Private and semi private lessons are available. Debra Meadow will be joining me for a nutrition, yoga, stress reduction and creative workshop this February. Check out the Yoga section for details as they unfold.
To be continued…I wish you all health, peace and creativity.
LuAnn